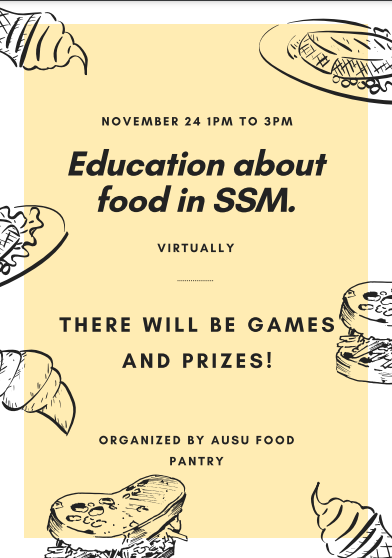 Food for Thought
The AUSU Food Pantry extends an invitation and warm welcome to their first "Food for Thought" event! Open to all students living in Sault Ste. Marie, Food for Thought will share extensive food options in the community, including overviews of groceries, cultural options, local businesses, and more. This event aims to help students improve their access to food, both in the short and long term.
Additional resources on food security will be shared, trivia games presented (many prizes available!), and students will have an opportunity to share their experiences with food in Sault Ste. Marie.
Join the Food Pantry team on November 24th at 1PM to learn more about student grocery store discounts, where to find certain types of food, and a chance to win food related gift cards!
Please contact Preeti, Food Pantry Coordinator, at ausufood.pantry@ausu.algomau.ca with any questions! See Zoom link below to attend.
Join Zoom Meeting
https://us02web.zoom.us/j/87926156269?pwd=eURNSC9adndQRi9HQnBvbDh2MjRBUT09